SKUforce is a Cloud based metadata repository for MDM and ECM initiatives.
The SKUforce metadata repository provides a collaborative environment for internal and external stake-holders to enter/import and track all required product related information and rapidly and efficiently publish that information to channel partners and customers. The result is faster time-to-market, increased sales and a richer, enhanced customer experience.
The SKUforce repository is the single source of truth for the extended enterprise.
The SKUforce metadata repository contains and manages all product attribute information, including images, rich media, icons, movies, formatted dimensions and other critical product information. SKUforce offers high data visibility and powerful business intelligence tools for searching and reporting.
Push metadata management and classification to your Suppliers and Vendors.
Suppliers /Vendors are able to import their own information and images in the format you desire, easily and efficiently. This information is then approved and ultimately syndicated through multiple channels to the end user, who benefits from easy to find, rich and accurate product information.
Key Business Challenges Include:
Manage the complete life-cycle of information from inception through obsolescence, across the Enterprise.
Consolidate structured and unstructured information from multiple domains and often multiple languages, into a single system of record.
Ensure mandatory product attributes are correct and consistent.
Collaborate with Vendors and Suppliers to aggregate and normalize product information that can be synchronized with other internal systems.
Create a Rich Item Master that is easy to use, flexible and adaptable, ensuring wide adoption throughout the Enterprise.
Rich Item Master for all Product Attribute Data:
Unique Data Pyramid architecture reduces data elements by up to 80%
Flexible and Extensible platform for managing the Information Lifecycle
Accurate, Validated, Standardized attribute data shared across departments
Publish /Approve model for handling Master Data change management
Integrated business intelligence tools for instant reporting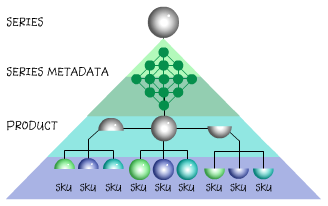 Imagine an automatic data hierarchy of product content which includes series, product and SKU metadata, images and documents.
Read More:
MANUFACTURING - Product Lifecycle Management (PLM) including New Product Introductions
MARKETING - Multi-Channel Marketing (MCM) - Managing Information from Multiple Sources in Multiple Formats to Multiple Destinations
SERVICE VENDORS /E-COMMERCE - Web based global Digital Asset Management with multi-tenant logins (DAM)
RETAILERS / DISTRIBUTORS / WHOLESALERS - Supplier Content Management with vendor login and vendor management (SCM)